Founded in 2011 in Cleveland, Tennessee, we are a social ministry of The Salvation Army.
Our local Salvation Army Corps (what the Salvation Army calls their churches), didn't have a community center of any kind.  There was no place available for us to do ministry, so we decided to create one.  The idea was that we could put the founders many years of experience running a coffeehouse to work; we could craft delicious coffee, and use the space to do amazing ministry with the community.
The funds raised by selling the coffee would offset the expense of the facility, and enable us to be available to our community whenever crisis hit.  Area High School students can engage in a specially designed discipleship program where they learn life skills, job skills, and leadership skills from a practical and Biblical perspective.  Others in the community have a safe space to come and fellowship, visit with friends, and connect- and all of it supports the work of The Salvation Army in the Cleveland community!
We didn't feel it was fair or right to create this environment that benefited us locally without also ensuring that those involved in growing and preparing the coffee were also being reached- so we only use coffee that is acquired via Direct Trade.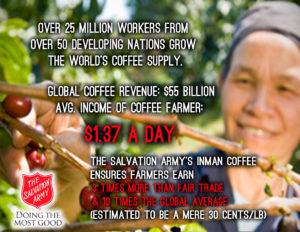 So you can rest easy when you enjoy coffee from Inman Coffee, knowing that you are helping to change lives both locally and around the globe!